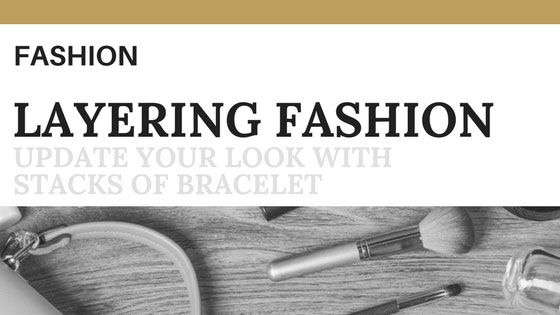 Layered fashion is not only stylish, but it also gives you the opportunity to mix and match pieces for a variety of looks. Start out with any outfit – trendy or classic – and finish off with a stack of bracelets. Your arm will become the focal point, so that's all you need to show off your keen fashion sense.
Stacks of Bangles
Bangles are always in style, but today's fashion calls for loading them up. If you're not used to the feel of bangles and the sound of them jangling, start out with three or four. As you get comfortable wearing these trendy fashion pieces, add more. It's okay to stack them up your arm from the wrist to the elbow for high drama impact.
Ways to wear stacks of bangles:
Bangles in the same size, shape and color family
Variety of bangle colors to pull together an outfit
Variety of bangle shapes (round, square, hexagon and octagon) in similar or different colors
Bangles in mixed metals
Bangles mixed with other styles of bracelets
Charm Bracelets
From the sweet charm bracelets you wore as a child to those with edgy metal dangling from the links, you'll see charm bracelets on fashionistas this season. This is another type of bracelet you can use for mixing and matching with other styles. You can even wear a charm bracelet with your stack of bangles.
Themes of charm bracelets:
Special interest theme charms
Charms with special meaning
Charms from places you've visited
Charms from your boyfriend or husband
Charms from your children
Cuff Bracelets
Add a cuff bracelet to your favorite outfit for a trendy look. It makes an even bigger statement when you layer with more bracelets. Some of the current cuff bracelets are wide and give the appearance of stacking.
Ways to layer cuff bracelets:
Wide cuff bracelet with a couple of chain bracelets
Narrow cuff bracelet with embedded stones and bangles to match the stones
Silvertone or goldtone cuff with a charm bracelet
Tennis Bracelet
The fashionista may or may not play tennis, but she knows how to rock the tennis bracelet. The sparkle of diamonds or CZ will be the focal point and attract the attention, so layer this piece with confidence.
Ways to layer a tennis bracelet:
On the same wrist as a watch
With a couple of bangles in the same metal tone as the bracelet
With a couple of chain bracelets in the same metal tone as the tennis bracelet
If you're not used to wearing bracelets, you might want to start out with just two or three. As you get comfortable, mix things up with bangles, a charm bracelet, cuffs and a tennis bracelet.