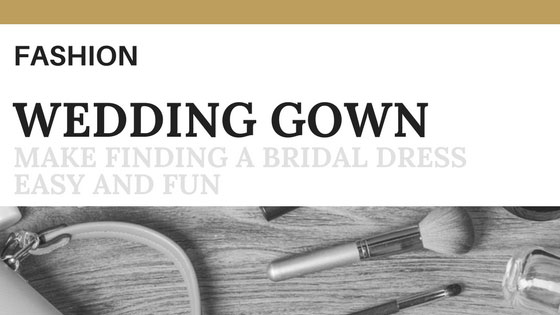 Shopping for your wedding gown can be a momentous occasion. Here are tips on shopping and what to bring with you to make the experience easier and fun.
Congratulations – you're engaged. While planning a wedding can be an arduous task, there is one part of it that many women dream of the most: shopping for a wedding gown. The style of wedding gown you choose can set the style and mood for the rest of the wedding and reception: romantic, unique, modern, classic, formal, informal … the list is as varied as each bride's own personal style. The trick is to find the one that suits you.
Shopping for a wedding gown can be overwhelming to a first-time bride, with the miles of aisles of white, off white, diamond white and other "whites," as well as the variety of styles on the racks. Following are some tips to make the experience easier and enjoyable.
Browse Before You Shop
Pick up a few bridal magazines (if you haven't already!) and browse through the pages to familiarize yourself with the styles and designers available on the market this season. Also check various websites to view the latest styles and trends, including The Knot and Brides.
Call Around
When you're ready to begin shopping, call the local bridal boutiques in your local area and make an appointment. Also, inquire on the labels they carry – especially if there is a particular designer whose styles you like.
Bring a Friend
Bring a trusted friend with you to your bridal store appointment. Be sure that you value her opinion, and can trust that she will tell you the truth.
Bring a Camera
Most bridal stores will allow you to take pictures of yourself in a dress. When trying on dresses, take photos from the front and back so that you can remember each dress, and compare and contrast them later. You'll be surprised at how different a dress can look on camera compared to in person in the mirror.
Bring Accessories
Bring items such as barrettes or hair elastics to tie back your hair so that you can see the front and back of the dress. You might also wish to bring a few clothespins – most bridal salons have "samples" that customers try on, which can be too loose fitting for some women. Clothespins will help to pull back the excess fabric so you can get a better view of what the gown will look like when it fits.
A strapless bra (preferably a bustier) and a crinoline will also come in handy when trying on dresses. Most bridal stores will have a crinoline that you can wear to try on gowns.
Sleep on It
Don't make any hasty decisions, especially under the pressure of a bridal consultant. Think carefully about the dress and your budget before you decide on a gown.
Shop Around
While the prices of gowns won't vary too much, shop around to make sure you're getting the best price – and the best service. Ask about other services as well, such as alterations; some shops will include alterations in the price of a gown.